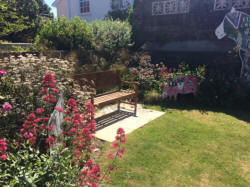 Wareham Town Pound Planting
The Renaissance Group and the residents of their Fleur-de-Lis Retirement Apartments have planted a superb selection of shrubs and flowers within the Town Pound, alongside the resident 'animals', as well as installing two comfortable wooden benches. The residents have now 'adopted' the Pound and are keeping it looking great and weed free.
WAREHAM TOWN POUND Renovation Project 2013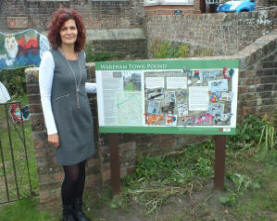 For hundreds of years the medieval Town Pound was the place where any stray farm animal would be brought and held until reclaimed by its owner who in return would pay a small fine to the Lord of the Manor.
Over the years the Pound had fallen into disrepair and instead of animals being held within its four walls there has been a 'growing' variety of bramble, nettle, weed and grass, and sadly rubbish.
Various attempts had been made to tidy the site and plant it with shrubs and flowers, but all to no avail.
In 2011, following requests from the community to improve and save the Grade 2 listed building, the Trust leased the site from the Rempstone Estate, and in 'partnership' with students from the Purbeck School, English Heritage and Maria Burns, a local illustrator & designer, plans were put in place to give the Pound a new lease of life, and become yet another 'attraction' within the Saxon Walled Town and along the Walls Walk.
The site was cleared, taking great care not to damage the structure in any way, it being a 'listed building', and life-size animals, created by the students under the guidance of their tutors and Maria, were installed. An information board was added next to the gate to allow the reader to fully appreciate the heritage of the site, and the creativity of the students.
The project was funded by donations from the local community and officially unveiled by HM Lord-Lieutenant of Dorset, Mrs Anthony Pitt-Rivers, on 2nd October 2013, when, at the same time, she unveiled the Saxon Walls interpretation boards.
Here are links to the preliminary stages of this project:
Here is how it all looked at the beginning Town Pound Newsletter One and then the designs and ideas Newsletter Two and more design ideas from the children of The Purbeck School Newsletter Three
Contact details:
John Scott, Development Manager, Wareham & District Development Trust
01929 554236 Mob: 07971 029940 E-mail: john@wddt.org.uk
Maria Burns, illustrator & designer
01929 555056 E-mail:maria@mb-id.co.uk
Display Panels by www.elitesigns.biz